When Wai Kai (Hawaiian for "fresh water/ocean water") opened in Ewa Beach on Oahu in March, it was touted as Hawaii's first surf pool park.
But Wai Kai is far more than just a wave pool. It's a dining, shopping and entertainment destination that also includes a 52-acre lagoon for watersports, a boardwalk cafe with WiFi, a private club lounge and an event venue. The week I visited, Wai Kai had just completed its first farmer's market, which featured 30 vendors.
"The surf pool is the heartbeat of our operation, and it takes up all the attention," said Greg Champion, Wai Kai general manager. "It's also great for the restaurants, but we have what I consider one of the best bars on Oahu now."
It was clear to me that the wave pool is the focal point. It's centrally located, and many guests gather around the pool or look on from the nearby restaurants as surfers, many who are new to the sport, take on the wave. The pool is 100 feet wide, smaller than an Olympic-size pool, and its standing wave is a first for the Islands.
Surfers can book a 45-minute session at the current introductory rate of $140. The regular rate is $210, and these rates are commissionable for travel advisors.
There is a limit of 10 people per session, and each surfer takes turns. Lessons are offered on a 30-foot-wide wave; the price for lessons is the same as it is for a session on the 100-foot-wide wave. More experienced surfers can book an advanced session, which speeds up the water, making the wave bigger, deeper and faster.
Some of the biggest advantages to surfing at Wai Kai as opposed to the ocean are that there's no paddling involved, no waiting for sets and no crowds of people waiting for the next wave. "You get more surfing in one session than you do in the ocean," Champion said.
One other advantage: Unlike the ocean, Wai Kai has an off switch. So when someone is in need of assistance, an employee can simply flip the switch to calm the waters, enabling the distressed surfer to exit. (All Wai Kai employees are Red Cross-trained and certified in water safety, rescue and CPR.)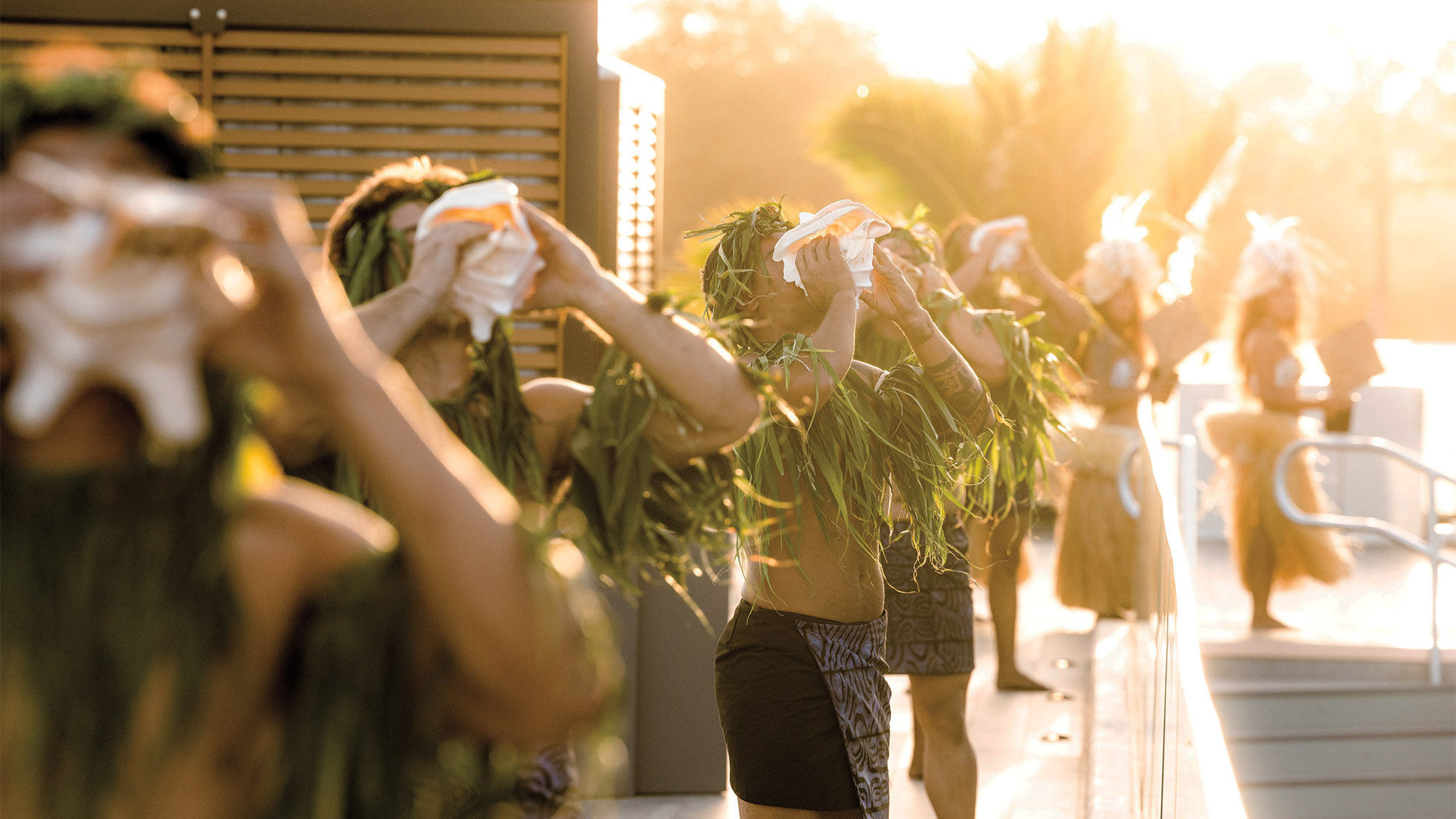 Lagoon and lounge options
There's no surfing at Wai Kai's lagoon: There are no waves there, as it's closed off from the ocean. But there are plenty of other activities, and visitors can book a Play Your Way pass for $40 that gives them access to watersports equipment, including kayaks, stand-up paddleboards, paddleboats and hydro bikes. There are also floating cabanas for guests who want to take it easy on the water. The lagoon is fronted by a small beach and dock.
Visitors who want to spend the day or just have an elevated experience can rent one of six surfside cabanas with sofa seating, a minifridge and a sound system. Half- or full-day passes (at $20 or $35 per person, respectively) are also available for the Nalo Kai Club Lounge, which features locker rooms, showers and a lounge area.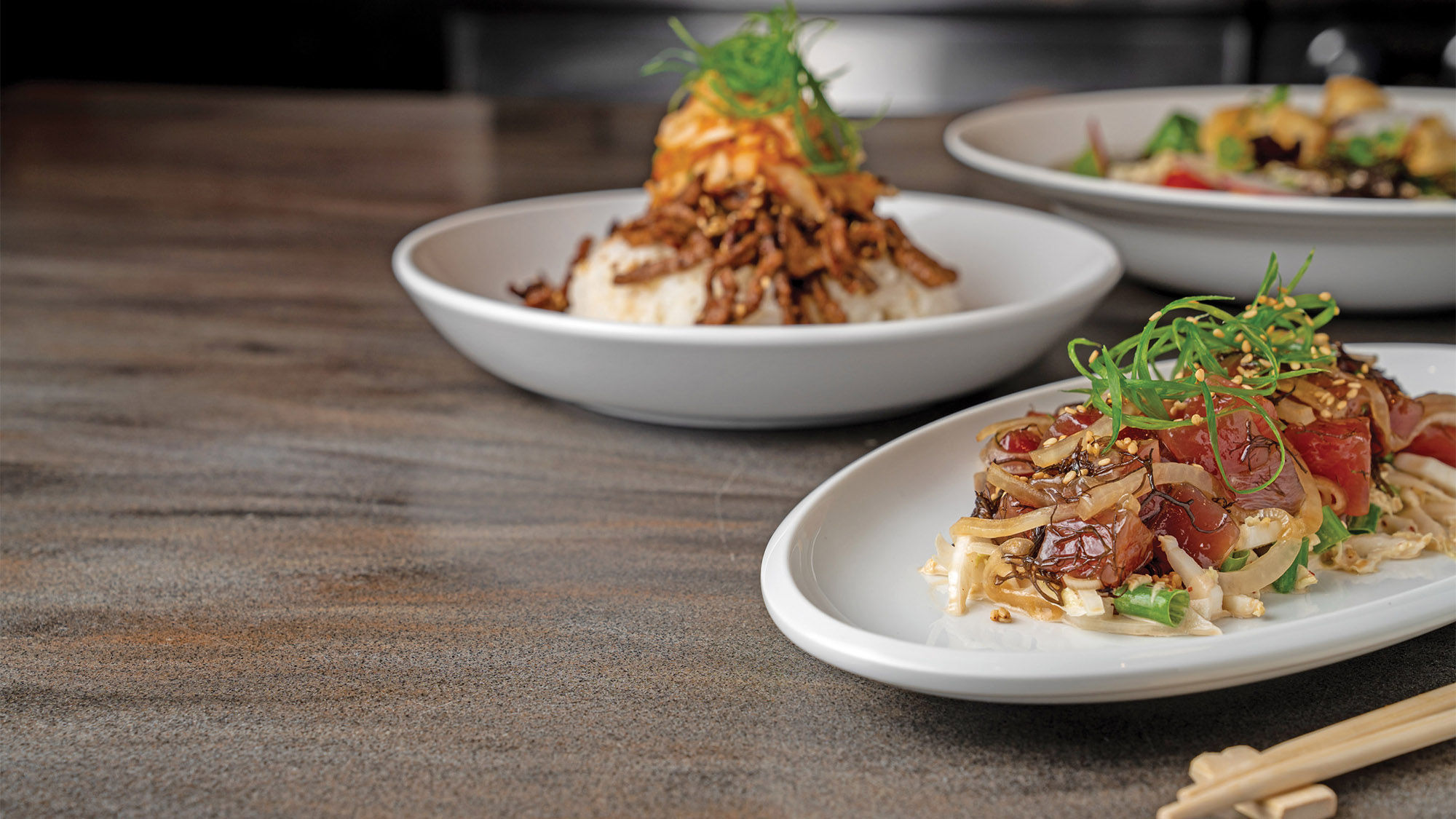 Apres-surf dining
You never need to go too far to grab a bite or a beverage at Wai Kai.
Above the wave pool is the Lookout, a restaurant and bar that has a front-row seat to both the pool and the lagoon. It's a large space, and the bar is at its center. The menu features items such as salads, fish tacos, a grilled jidori chicken sandwich, kalua pork sliders and pizza. A large screen streams surf content, and there's live music and DJ nights.
On the opposite side of Wai Kai is Kitchen Door Napa, a restaurant with two concepts: Plaza Grill and the Boardwalk Cafe. The grill is a family restaurant that offers teriyaki chicken wings, pizza, seafood, Korean-style short ribs, pork chops and cheeseburgers. The cafe is open from 8 a.m. to 2 p.m., with breakfast served on weekends from 8 a.m. to 11 a.m.
And as Champion was eager to point out, watching the surfers or live music performances won't be the only forms of entertainment at Wai Kai. 
"On Mondays, we have a surf show that we're doing, and it's sort of our take on a luau. It's a dinner show, our unique take on water and the history of surfing," he said.
Tables will be set up around the wave pool, where preshow drinks will be served. The show will feature music, Hawaiian and Tahitian performers, fire dancers and surfing by staff members.
Unlike a luau, there is no buffet. Instead, guests will receive table service with appetizers, dinner and dessert. There will also be post-show drink specials.
The show will debut in June; bookings should be available in the next couple of weeks, a spokesperson for Wai Kai said. 
Wai Kai is about 45 minutes from Waikiki and 25 minutes from Ko Olina, where shuttles will pick up guests at the Marriott, Four Seasons and Aulani for $35 roundtrip. More information is available at waikai.com. 
Source: Read Full Article