The long-awaited opening of the $3.7 billion, 67-story Fontainebleau Las Vegas on Dec. 13 is generating curiosity and sparking buzz on the north end of the Strip.
The project has been in the works since the property was purchased in two transactions in 2000 and 2005. Construction on the 25-acre site began in 2007, and the main structure was topped off in 2008.
But the Great Recession, financing problems, ownership changes and the pandemic intervened and the hulking blue-glass structure adjacent to the Las Vegas Convention Center stood empty until work resumed in earnest in 2021.
The Fontainebleau, at 735 feet, is the tallest occupiable structure in the state
(the Strat Hotel, Casino & Skypod, is higher  at 1,149 feet
high, but a good portion of that is made up of the property's observation tower.). It contains 3,644 rooms and suites, and there will be 150,000 square feet of gaming, a 96,500-square-foot retail district, a six-acre pool area and 550,000 square feet of meetings space at the sister property of the iconic Fontainebleau Miami Beach.
Project officials recently released renderings and descriptions of the highest-end suite collection, spa and fitness amenities and some of the 36 first-to-market food and beverage concepts.
Fontainebleau Fleur de Lis
On the top five floors of the tower will be Fontainebleau Fleur de Lis, a luxurious hotel-within-a-hotel concept with suites designed by the David Collins Studio.
"The Fleur de Lis suites have been designed with a consistent theory of architectural finish, which builds upon the studio's overarching concept for Fontainebleau Las Vegas: a new and unique interior architecture that directly references, and yet reinterprets, Morris Lapidus' iconic Fontainebleau Miami Beach property and his wider architectural oeuvre," said Simon Rawlings, David Collins Studio's chief creative officer.
The suites will range from 1,000 square feet to the 10,000-square-foot penthouse. The iconic Morris Lapidus Fontainebleau bow tie is set in marble inlays, parquet flooring and furniture pieces. Polished brass, bronze, blackened timber, navy-blue stained timber, linen-textured wall coverings, polished and honed marbles, terrazzo and star-shaped glass rods create an elegant aesthetic throughout the accommodations.
Exclusive amenities will include a seasonal oshibori (hot towel) and beverages for guests when they arrive, in-suite check-in, floral arrangements, welcome chocolates, linens from Rivolta, alpaca throws and valet, concierge and evening butler services to customize pillows, teas and baths.
"Fleur de Lis is the new standard for design and bespoke experiences on the Strip, a natural extension of our brand that reflects Fontainebleau's decadeslong legacy as a leader in design, service and luxury," Fontainebleau Development president Brett Mufson said. "In conceiving Fleur de Lis, we were inspired by the grandeur of our first hotel and assembled a global team of world-class designers to personally curate every touchpoint and amenity so the experience is unlike anything else we have created."
While regular rooms start at $300 per night, published rates for Fleur de Lis suites start at $5,000 (plus tax and fees) per night. Book by phone at (702) 678-0145 or email at [email protected].
Spa and fitness amenities
The resort will include the 55,000-square-foot, two-level Lapis Spa and 14,000-square-foot fitness center. The spa's name is a reference to Lapis Lazuli, a deep-blue crystal associated with protective qualities such as strength, courage and spiritual connection.
Lapis Spa will house 44 massage, facial and body treatment rooms; cold plunges; a nail salon; and penthouse spa for small-group experiences.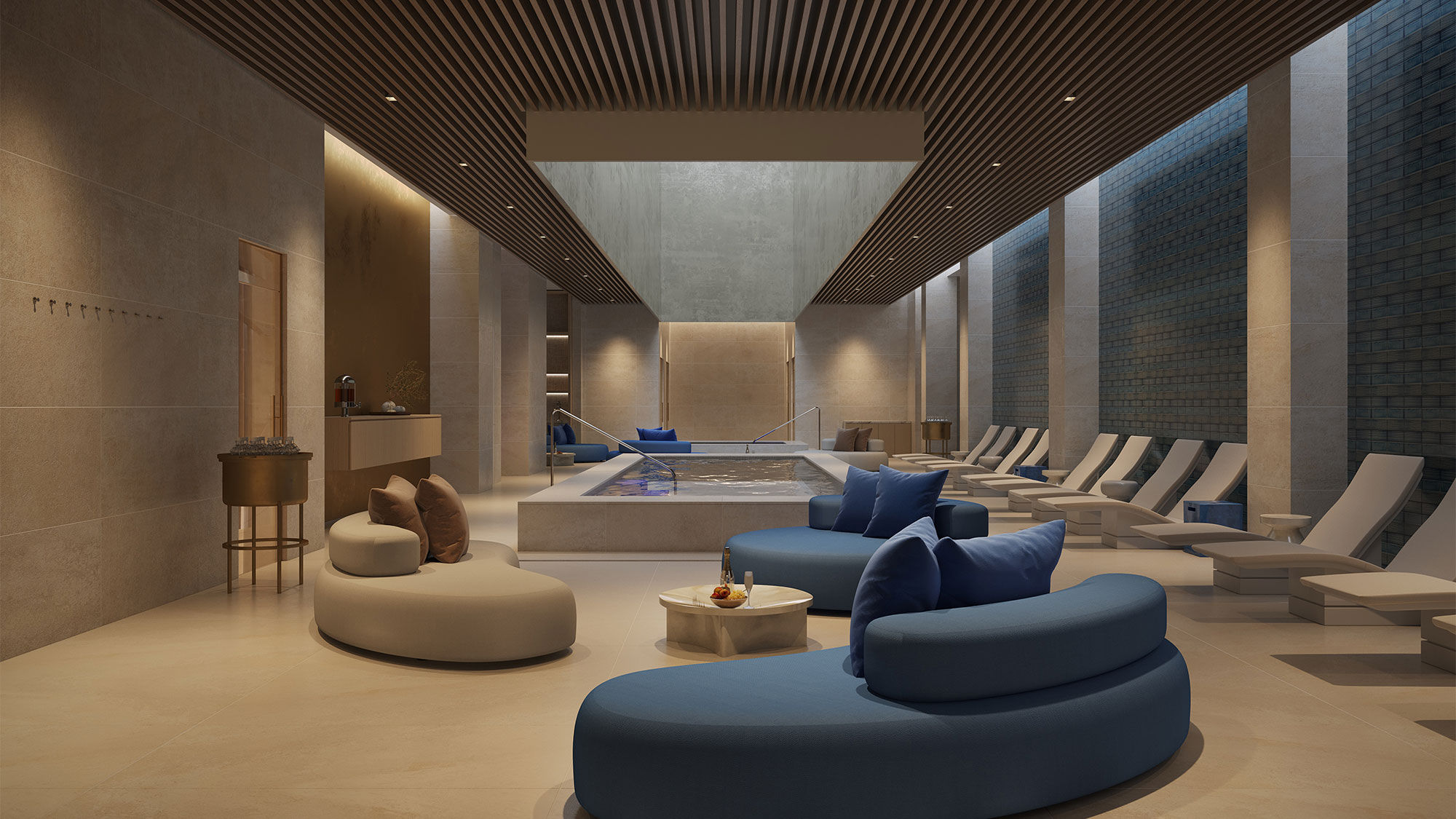 Infrared saunas, designed for those sensitive to heat, will have lamps that focus warmth directly onto the skin for heat-therapy benefits. The Aufguss Sauna (or Event Sauna) will blend sauna, aromatherapy steam and a theatrical presentation of towel movements choreographed with music and lights.
The Salt Mist Chamber will have a salt mist-dispensing system to reduce inflammation, clear toxins and improve lung function. The Snow Shower, at 14 degrees, will feature a snow machine for guests to cool off after a heated treatment. The Herbal Inhalation Room will use essential oils for therapeutic, psychological and physiological benefits.
Lapis Spa, to reflect guests' natural circadian rhythm and biological clock, will also incorporate sensory elements such as aromatherapy and lighting to create a calm atmosphere in the morning and a more vibrant mood in the afternoon.
The Fitness Center will include Peloton bikes, Woodway treadmills, Hydrow rowers, VersaClimbers and Echo bikes. Advanced strength options will include Jacobs Ladder cardio equipment, a HIIT (high-intensity interval training) modular system, a sled push and a tractor tire flip area. A movement studio will offer daily classes in yoga, Pilates and stretch and recovery.
Groot Hospitality restaurants
Hospitality entrepreneur David Grutman of Miami-based Groot Hospitality will open the 50,000-square-foot nightclub LIV and the Komodo and Papi Steak restaurants at the property. His 35,000-square-foot dayclub concept, LIV Beach, will debut in the spring.
The LIV brand has attracted celebrities and revelers since it opened at the Fontainebleau Miami Beach in 2008.
"Our collaboration combines Groot's passion for creating unforgettable experiences with Fontainebleau's legacy of iconic hospitality," Grutman said.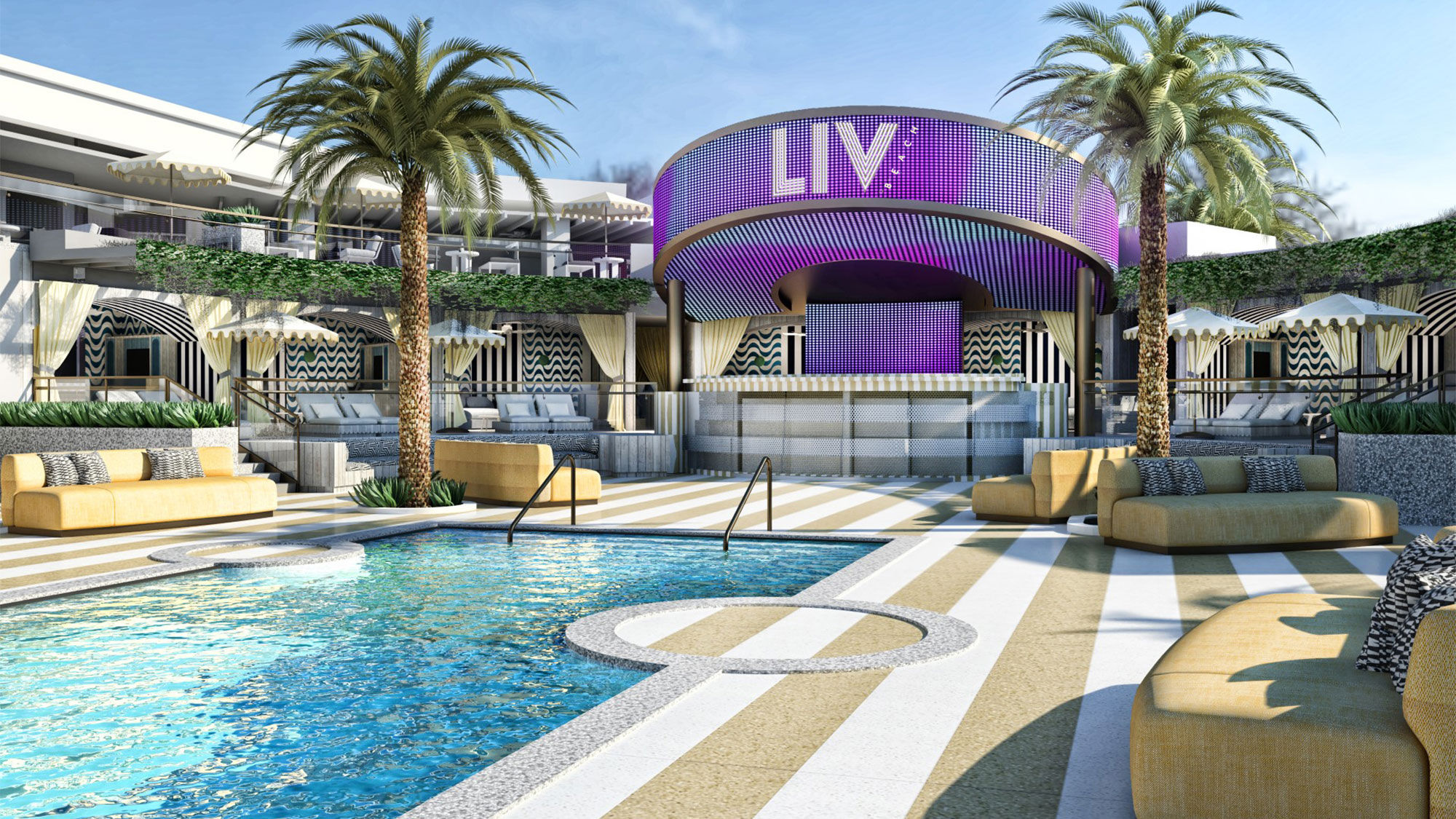 Komodo, with soft red and pale gold lighting and "bamboo" cutout columns, will feature Southeast Asia-inspired dishes and sushi. Papi Steak, which Groot promises will be "the ultimate in a hedonistic night out," will have modern takes on typical steakhouse dishes.
Other restaurants at the Fontainebleau include:
• Chyna Club, serving eclectic Chinese cuisine.
• Don's Prime, a steakhouse amid mid-century glamour
• Ito, a 12-seat omakase restaurant offering an interpretation of traditional sushi on the 63rd floor
• KYU, barbecue dishes influenced by the Japanese discipline of "yakiniku," a wood-fired grilling technique
• La Fontaine, daytime fine dining specializing in French cuisine
• Mother Wolf, with chef Evan Funke's soulful Italian cooking
• Vida, an evolution of the American bistro in Fontainebleau Miami Beach
• Washing Potato, what's described as a "whimsical journey through the delicate and intricate traditions of dim sum."
The Promenade food hall will be reminiscent of a European piazza.
Post Malone appearing New Year's Eve
The Fontainebleau has booked rapper, singer and songwriter Post Malone to perform on Dec. 30 and 31 at the 3,800-seat BleauLive Theater.
"New Year's Eve is iconic in this city, and I'm excited to ring in 2024 as the first headliner at Fontainebleau Las Vegas," he said.  Malone's fifth album, "Austin," debuted in August at No. 1 on the Top Rock & Alternative Albums chart.
Packages that include a two-night stay and pair of tickets to the show start at $3,700 (plus tax and fees).
Source: Read Full Article