HOLLYWOOD, Fla. — There were flamingoes. There were globes and old-fashioned suitcases. There was candy, and even a sparkly stiletto flower display.
These colorful adornments dotted the tables at the Global Travel Marketplace at the Diplomat Beach Resort here in early June. The tables were staffed by 140 travel advisors, urged by the Northstar Travel Group events team to treat the tables like their home office for the next two days. (GTM is owned by Northstar Travel Group, Travel Weekly's parent company.)
But flamingoes, candy and other accouterments were forgotten as suppliers and advisors leaned over the tables, passing business cards and networking furiously, while a giant digital clock counted down in two corners of the ballroom.
This is the annual scene at Global Travel Marketplace, where advisors, handpicked by the GTM team, are matched for a series of six-minute appointments with reps from travel companies. 
It's not easy to secure a spot at GTM. Each advisor had to show annual individual sales of at least $1 million or be an owner of a multimillion-dollar agency and had to submit background info about themselves, their goals and how they could benefit from a GTM slot.
The suppliers, ranging from cruise lines to airlines to tourism boards to a distillery in Dublin, are guaranteed up to 50 scheduled appointments. They can also invest in a "Boardroom" spot, where they can make longer presentations in front of small groups.
Which suppliers do you most want to meet? A few advisors considered the question, and the answer was similar: Everybody.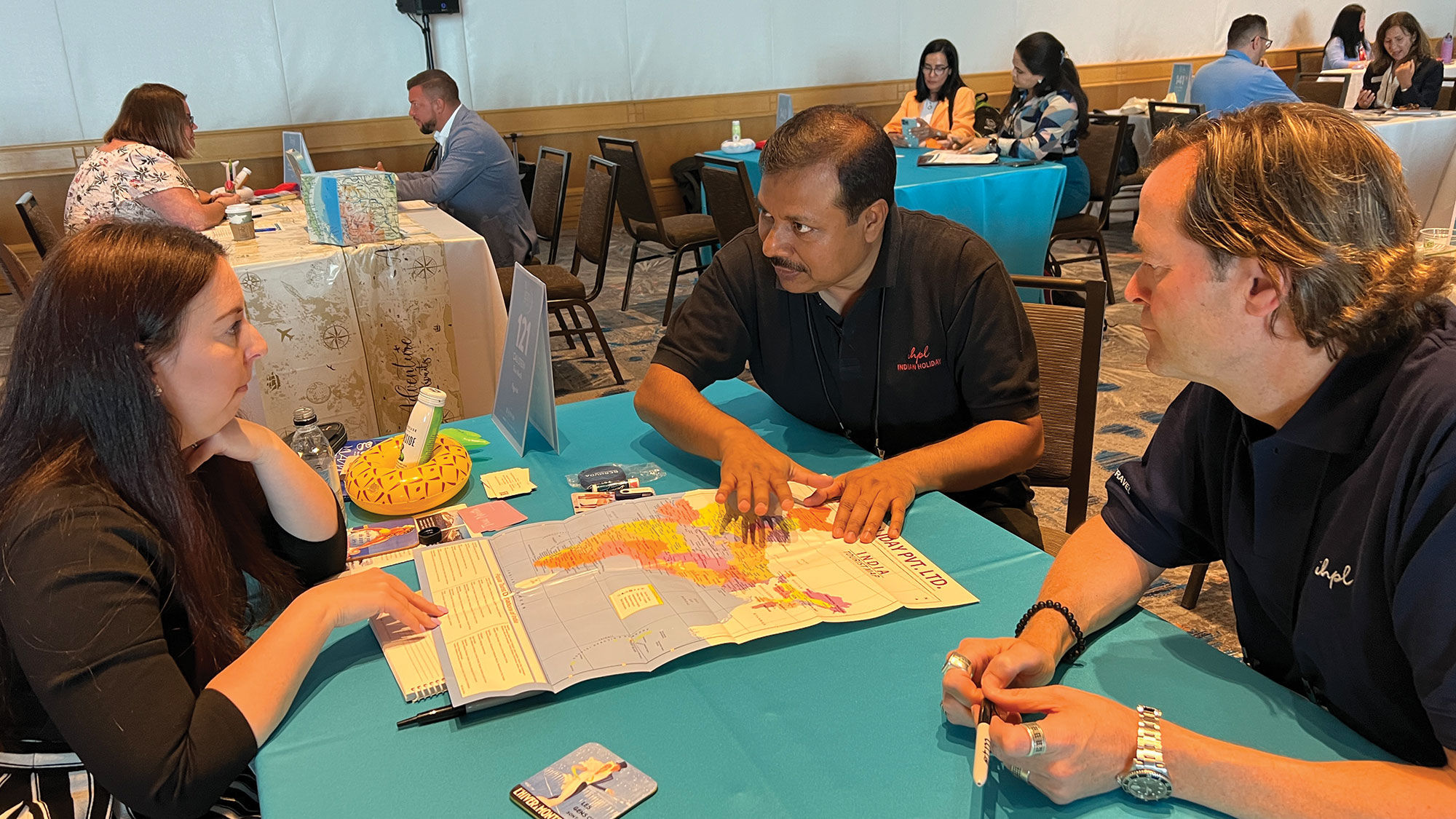 Around the world in a morning
On the floor, there was no doubt that travel is back: 2023 was GTM's biggest gathering of buyers and sellers to date.
At 10:16 a.m. sharp, as the morning sessions began and the clock started its countdown, Cali Stein rushed to Table 121. Formerly of Embark Beyond, she had the day before said she was joining luxury-focused Four Hundred as a partner. 
As she settled into her first meeting, with Seabourn, she gave them the good news: "I just made my first Seabourn booking." Jessi Fundora, the line's key account manager in the Southeast, was delighted.
The talk quickly segued into the nuances of group bookings, the Kimberly in Australia and an important detail about Stein's client's Alaska cruise: their jacket size.
From there, it was a whirlwind trip with reps from Visit Flanders, New Zealand, Bermuda, Hong Kong. In a discussion with the Titanic Hotel Belfast's Yvonne McIrlee, Stein was particularly impressed that the hotel could set up bespoke experiences, such as a visit to a local's home to bake soda bread. "I love that," she said, starting to make notes in her GTM directory.
This directory, nicknamed "the bible," was indispensable to many. Its pages included names, photos, logos, and space by each entry for notes. Many suppliers introduced themselves with their page number. "I'm on page 76," said Air New Zealand's Rigo Borjas by way of greeting Stein.
A few minutes later, "Monaco has come to you!" announced Bernadette Xaviere Skubly Butts and Vanessa Gonzales-Hernandez. They discussed how Stein could reposition the mindset for clients who stay on the French Riviera and visit Monaco to get them to stay in Monaco and visit the French Riviera. 
After wrapping up her morning with Omar Banihani from Visit Jordan, Stein seemed exhilarated, not exhausted.
After lunch, in the Group I Boardroom, advisors peppered Live Life African Safari Getaways owner and CEO Clint Saint with questions about how far in advance to book (ideally, a year) and how bad the bugs are in the bush (not bad). During Amadeus River Cruises' presentation, Steve Avalos tossed a pickleball to show off the line's onboard court and excursions.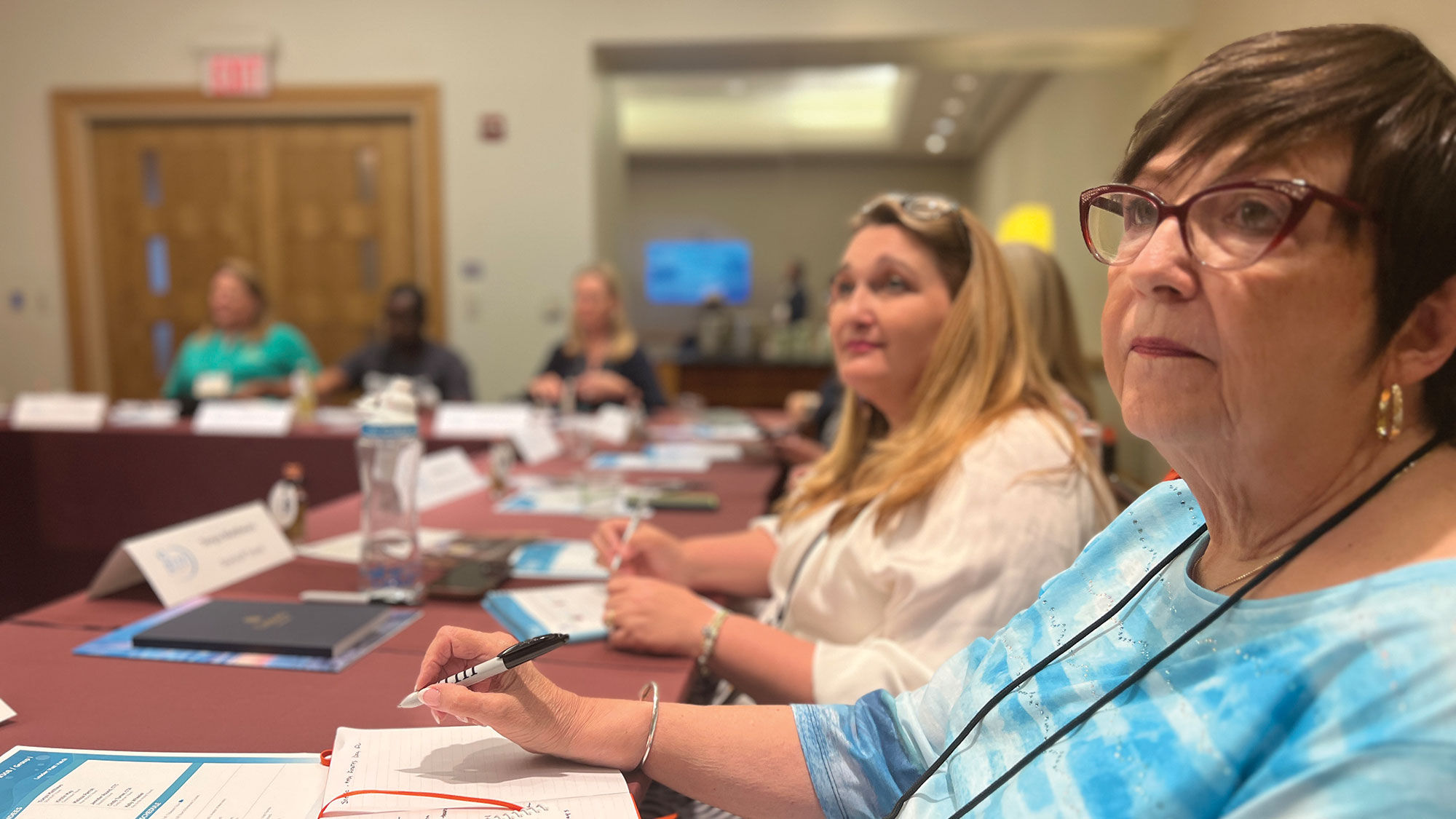 Ultraluxe, custom, FIT
Then it was back to the ballroom, where attendees clustered around coffee urns. Inside, Tara Hyland surveyed the scene from Table 65. Hyland, who started in corporate sales and account management, now runs Tara Hyland Travel, an IC with Departure Lounge. Her specialization, she told suppliers, is "luxury, ultraluxe, custom, FIT."
"That would be perfect for us," said Jesus Repetto, the CEO of Titanium Tours.
As was the case with Live Life, many destination management companies had a similar pitch: You give us info about your clients, we provide the in-destination expertise and jump on a call with you to help with the itinerary and sale. (Saint's phrase had been: "You don't have to know Africa. That's our job.")
Hyland was interested in Titanium's expertise on France, Spain and Portugal, which they agreed would be "crazy" this summer. Repetto touted Titanium's VIP services. "When you're doing FIT, you can work around the crowds; you can do the itinerary backwards," he said.
Hyland's goals for this GTM were to re-establish ties with reps she knew and get exposure to those she didn't. She was interested in tours at Teeling Distillery in Ireland. She talked Australia with the rep from Anzcro.
She discussed wine tours and summer-client strategies with Anna Barba, the tourism and marketing associate for Catalunya. "Trying to find guides last minute is difficult," Hyland said. "People trying to change their itineraries is difficult. That's what I'm experiencing across Europe."
Then the clock wound down and Hyland geared up for her next supplier adventure. This session ended at 5:30 sharp, but there was another full day ahead. 
Source: Read Full Article