Weeks after selling one of his four corners along Colorado Boulevard, Doug McKinnon has expanded the size of another.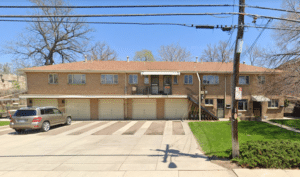 The 51 N. Colorado Blvd. property has a multi-unit residential building on it. (Google Street View)
The owner of real estate firm McKinnon & Associates purchased 51 N. Colorado Blvd. — home to a multi-unit residential building on 0.26 acres — this week for $1.8 million, according to public records.
A McKinnon-led investor group already owns the undeveloped parcels to the north. The deal brings his holdings at the southwest corner of Colorado Boulevard and 1st Avenue to 0.45 acres, and the increased size could make the site more attractive to a developer.
"We now have arguably one of the largest contiguous development sites in Cherry Creek," McKinnon told BusinessDen.
McKinnon's group purchased four corner properties leading into the Cherry Creek neighborhood from the east in 2019 for $5.5 million. The other lots were the northwest corner of Colorado and 1st, and the southwest and northwest corners of Colorado and Bayaud.
McKinnon got the sites rezoned in 2020 to allow for denser development. He branded the properties as Cherry Creek "gateways" and started marketing them for sale. He sold the southwest corner of Colorado and Bayaud for $1.4 million last month, but still owns the other three corners.
McKinnon said he's been under contract to buy 51 N. Colorado Blvd. for years, and noted that it was rezoned as part of the 2020 process. It's long been included in his marketing materials for the sites.
"I knew that I was interested in a larger, more comprehensive site up on 1st," he said.
McKinnon said his deal with the previous owner, a woman named Betty Vincent, would have allowed him to quickly close on the property if needed — if, say, a developer had wanted to buy both it and McKinnon's parcels to the north.
But with no such deal materializing, the property stayed in Vincent's name to allow her to draw income from it, McKinnon said. 
Vincent, however, died in December. McKinnon purchased it from her estate, records show.
None of McKinnon's three remaining corners are under contract to be sold. Asked whether he might expand any with additional purchases, he responded, "my guess is unlikely."
"There's a couple of adjacencies that people have approached me on, that weren't necessarily strategic in my mind," he said.
This story was reported by our partner BusinessDen.
Source: Read Full Article