Hyundai has pinned the Ioniq 5's design language onto its first production model, the Pony hatchback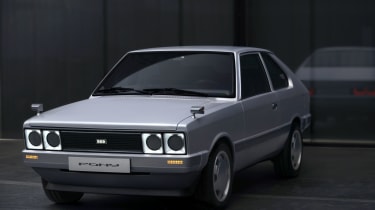 Hyundai has launched a new retro tribute to its first ever mass production vehicle, the Pony. The reimagined classic borrows some styling cues from the Korean brand's latest model, the Ioniq 5, which actually used the Pony as the starting point for its design.
The Pony's angular lines were originally penned by the legendary Italian designer, Giogetto Giugiario, who was also responsible for the likes of the Alfa Romeo Alfasud, the Lancia Delta and the original Lotus Esprit. As such, Hyundai hasn't tried to improve the Pony's panelling, choosing instead to augment its retro lines with modern technology.
New Peugeot e-Legend: tech secrets revealed
For example, the Pony tribute's tail lights share a similar U-shaped signature to the Ioniq 5's, but feature the same 8-bit graphics that were commonplace around the time of the car's launch. The hatchback's headlights have also been swapped for modern LED units, which ape the design of the original lamps.
Next, the car's wing mirrors were binned in favour of modern rear-view cameras, which send feeds to the interior. Hyundai even designed a set of bespoke, period-correct alloy wheels, which are slightly larger than the steel wheels fitted to the original car.
Inside, the changes are more profound. The standard dashboard has been heavily modified with a new digital instrument cluster that uses illuminated vacuum tubes in place of the original car's analogue gauges. There's a touch-sensitive panel occupying the same space as the classic's radio and heater controls.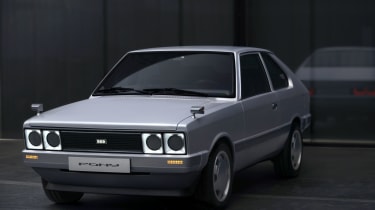 The steering wheel has been sympathetically modernised, with fresh leather trim and a retro thumb-switch to activate the car's voice control system. The door cards have received the same treatment, with modern soft-touch materials, ambient lighting and speakers set atop retro leather trim. 
Hyundai also gave the centre console a tickle, with a new wireless smartphone charger and an unusual touch-sensitive H-gate gear selector. This latter design decision seems to be nothing more than a nod to the Pony's past as, from what we can work out, this tribute is all-electric. Hyundai hasn't actually confirmed what's powering the concept, but the dial on the left-hand side of the dashboard (labelled "Pony Energy") appears to be a charge-level indicator.
Hyundai has a few electric powertrains to choose from but, considering the boot still has enough space for a "last-mile mobility device", we expect it'll be one of the firm's smaller units. A likely option is the 134bhp electric motor from the entry-level Kona Electric, as it's compact enough to slot either under the bonnet or beneath the boot floor.
Now read about the Pony's spiritual successor, the pure-electric Hyundai Ioniq 5… 
Source: Read Full Article