Fiat is planning a series of vehicles based on the Centoventi concept – including a new compact "Panda SUV"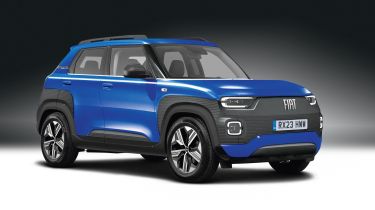 Fiat is planning a new "affordable electrification" product offensive. It'll be rolled out over the next five years – and the Italian brand will establish the 500 and a range of practical vehicles based on the Centoventi concept as key pillars for its growth within Stellantis.
Fiat's CEO Olivier Francois recently told Auto Express that this strategy would shift the paradigms of his company's line-up. Now, the 500 will become the style-focused offering in the brand's portfolio, while the upcoming Centoventi-based models will forgo swoopy styling in the name of outright practicality.
Stellantis partners with Amazon for next-generation in-car technology
These new entry-level vehicles will also be economically priced, retaining a similarly ruthless focus on production costs and the same rugged character as the original Panda from the 1980s. So far, Auto Express understands there'll be a "Panda" supermini and a new "Panda SUV" (previewed above) – but more are on the way.
We asked Francois directly if Fiat's new line-up would have two pillars, built on the 500 and the conventions set out by the Centoventi concept – and he replied: "Exactly, you're right." He stopped short of confirming any nameplates, but he did suggest that the larger Panda-influenced models could use classic Fiat badges.
Francois walked us through his thought process for naming his entry-level Centoventi-based model, though, saying: "What is sure is now I have the possibility to invent a new name, or to tap into some fabled name of the past. I'm leaning more towards the second one, because we really have these favourable templates, with a lot of happy customers.
"So I'll do a B-segment [supermini], and then is it going to be a new Punto? Is it going to be a super Panda? I don't know. We will find out. What is very important, and this is where you have my total commitment, is that obviously at the first glance – even with no badging or branding – you'll recognise it as a Fiat."
The "Panda supermini" will be a rugged, boxy city car – and it'll be the closest thing Fiat will launch to a follow-up for the current Panda. Then, there'll be at least one, (but probably two), scaled up models which will likely use the same Stellantis CMP architecture as Fiat's new sister brand Peugeot uses under the 208 and 308 hatchbacks.
The "Punto" Francois mentions above could be a boxy supermini, but the name could also refer to our pictured "Panda SUV," becoming a jacked-up extension of the original Centoventi concept. This vehicle will give Fiat a more practical foil to the next 500X and, in effect, a replacement for the unloved 500L MPV.
Fiat has already pencilled in an as-yet-unspecified small SUV for its Tichy factory in Poland (currently home to the older 500 and Lancia's Ypsilon) from 2023. That's the year Francois expects his new vehicles to start arriving.
New 2022 Fiat Scudo launched with EV and diesel powertrains
The model, which should be previewed this year, is expected to be built alongside Alfa's baby SUV, as well as a small Jeep – and all three cars would use the firm's CMP and e-CMP platforms to offer a choice of petrol or electric drive.
Contradicting speculation, Francois suggested that there is room in his line-up for two small SUVs. "If you look at VW, now it has the T-Cross and the T-Roc, which are both SUVs but one is bigger, one is smaller.
"And on top of that they have the Taigo [coupé-SUV]," he said. "Because we are not that rich, we are not going to launch four or five versions. But we have the opportunity to say: 'If you want something a bit more coupé-ish, more rounded, hey, I have great news: I have the design inspiration of the 500.'
"But if you want space for the money – that's maybe another important element for the [small] B-SUVs – if you really want square boxes, boxy, rugged and space, I have the inspiration that is Panda. And my idea is to stick to this, for now, but obviously in an evolutionary way."
Francois appears to have determined that Fiat's heartland will be in high sales volumes of small vehicles, allowing the likes of Opel and Citroen to offer larger models such as full-sized family SUVs. "My idea is to cover or to focus on cars between 3.7 metres long and 4.3 metres long," he said. "A-segment, B-segment, B-SUV short, B-SUV long. That's where I want to play."
Fiat's wider product strategy and its future with Stellantis
Over the past decade, Fiat has occasionally struggled to position the rest of its line-up alongside the 500 – not least because developing new versions of cars such as the Punto and Tipo was prohibitively expensive, with little or no crossover between sister brands Chrysler and Jeep.
Now, with Fiat part of Stellantis and able to tap into huge economies of scale, along with ready-made platforms and engines, Francois says that his development costs on key small cars could be reduced by as much as three quarters in some cases.
"I have siblings now – Peugeot, Opel, Citroen, DS, even Lancia, who are in the business of doing small and compact European cars," Francois told us. "So we all need more or less the same thing, the same technologies. Obviously the cars are going to be fundamentally different, but the underpinnings can be shared."
It seems likely, however, that Fiat will try to spin at least one more variant off the latest 500's platform – which was developed in house before the Stellantis merger. This architecture could be stretched slightly for the aforementioned five-door edition (envisaged in our exclusive image on Page 9), allowing an overdue successor to the existing 500X small SUV (left) to be based on Stellantis's supermini-sized STLA all-electric underpinnings.
Now read about Fiat's MY22 updates for the 500X and Tipo…
Source: Read Full Article