As an adventure touring bike, the Himalayan simply wouldn't feel complete without a set of saddle stays.
BHPian WhiskeyTangoFox recently shared this with other enthusiasts.
Update: GPS Mount and Saddle Stays:
Hey Folks!
Checked off two more boxes on the accessories list for Uno! Two big ones in my opinion, and extremely useful.
The first one is a GPS / Phone Mount. One can get something of the sort for two reasons, one being, that the handlebar does not have enough space to freely accomodate a Mobile Holder and other fittings such as a charger or aux light switches, which is the case with the stock handlebar of the Himmy, if you really plan to load it up. In this case, one can get a mount from Zana or the like.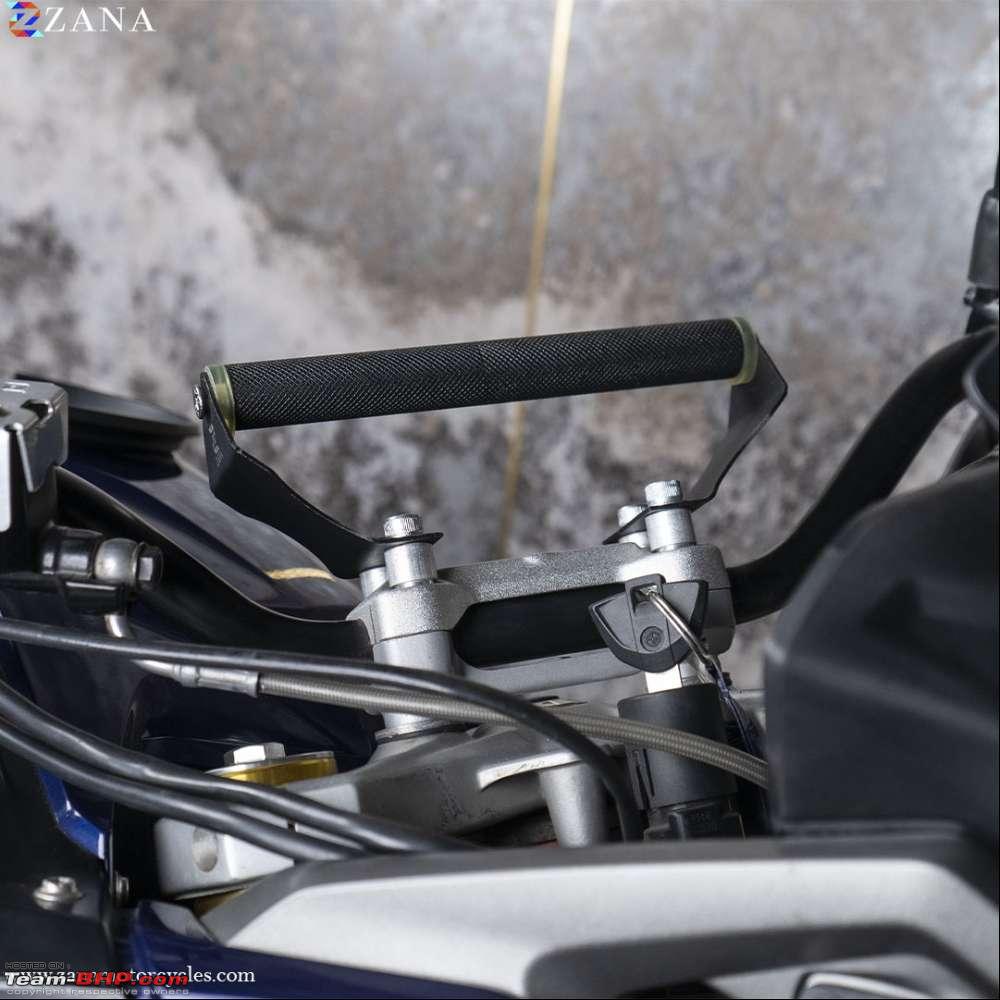 Example of a Mount from Zana.
However, since I have an Art of Motorcycles handlebar, with plenty of space for switches and what not, my problem was more safety related. Whenever I would use Google Maps to navigate through unfamiliar territories – whether in the city or on the highway – I found myself constantly glancing down at the handlebar (where my phone was previously mounted) to make sure I was taking the right turns. As I don't have an intercom installed, I couldn't rely on audio prompts either. This was a huge distraction for me and I didn't want to take my eyes off the road for even a few seconds, given how unpredictable our roads can be. That's why I decided to get a mount that would keep my phone directly in my line of sight. With a small tilt of my head, I can now easily view the maps while also maintaining my focus on the road ahead.
Picked up this GPS Mount from a company called Milachin (Same Company I purchased my rear rack plate from, have posted about it on the same thread if interested)
Pros:
Better Visibility
Good Ergonomics
Good Build Quality
Cost Effective
Cons:
Not a perfect fit. I'm not sure if this is an issue with the product or the Himalayan (Lost trust in RE's consistency after the Viaterra headlight guard incident, also enumerated upon on this thread for your reading pleasure). The mounting was not secure enough until I used some M Seal and got the job done.
I don't think the product is powder coated, same issue with the rear rack plate. However, credit where its due, there are hardly any scratches on the plate despite regular usage, so maybe this isn't really an issue.
Overall Rating – 7/10, Would recommend this or similar alternatives.
In my opinion, the second product is a crucial addition to the Himalayan and really rounds out its overall aesthetic. As an adventure touring bike, the Himalayan simply wouldn't feel complete without a set of saddle stays. After chatting with @Shyamg28, I came to understand just how critical it is to have exhaust shields and durable construction when it comes to these particular components. After careful consideration, I decided to go with @Shyamg28's recommendation and one of the most popular choices on the market: the Zana saddle stays. These will undoubtedly be responsible for carrying all of my luggage, so I knew I couldn't compromise on quality.
Slightly pricey but I'm certain that they're worth the money.
The package inlcludes, 2x Stays, 2x Exhaust Shields, 1x Support Rod Bolts and Fasteners, and a small pack of locktite.
I was able to install the product myself in about half an hour using just a couple of wrenches and an Allen key set. The process itself is quite straightforward, so there's no need to worry if you're not an expert mechanic. With the right tools and a little bit of patience, anyone can easily handle the installation.
I'll attach the exhaust shields later, whenever I am mounting luggage. I absolutely love the industrial-esque aesthetic. (Inspired by a Youtube channel by the name of Ontwowheelsben).
Pros:
Excellent build quality.
Perfect fitting.
Cons:
Overall rating – 10/10. Would recommend to anyone looking for saddle stays.
That's all for today, Cheers!
Check out BHPian comments for more insights and information.
Source: Read Full Article