The engine and the gearbox are, in one word, laid-back. Not relaxed laid-back, but boringly laid-back.
BHPian RavenAvi recently shared this with other enthusiasts.
It's been a long time since I posted an update on my ownership experience. Between the hassles of a near-fatal medical condition and on the road to gradual recovery + a demanding job which is at it's peak during the first 3 months of the annual year + domestic responsibilities, AND, being the owner of (arguably) the most boring, everyday car that one can lay their hands upon in our market today, there isn't much to report from my previous post.
Crossed the 5,000-kms milestone in the second week of March. Phoenix continues it's lazy, idyllic existence in my garage. Fuss-free, tantrum-free. It is serving well and is aging up well too, except for a few minor irritants – USB drive resetting itself to the default opening song, HU starting off from the FM station even when the USB drive is plugged in, center console creaking while the left leg presses on it, sunroof squeaking slightly while opening/closing, etc. (resolved by the Wurth spray)
Only major issue which popped up during January 2022 was the front passenger side window occasionally not rolling back up when the respective button from the driver-side door panel was pressed (rather, pushed up). It worked fine when the passenger-side door panel button was used. I suspected that that particular button on the driver door panel was iffy (all other buttons were working just fine).
Had called the dealership A.S.S. to schedule a checkup but after spraying the Wurth spray regularly on the window's rubber panels and the glass gap for about a week, the problem stopped. Not sure how that worked – maybe Hyundai has a self-healing system for the buttons inside the car!
Other than that, everything else continues to be butter smooth. I am still annoyed by the creaks from the center console every time my left leg presses against it while resting on the footrest. Not expected from a Hyundai.
Braking is absolutely fine. No nasty surprises yet in my daily runs, whether it be inside the city or on short highway jaunts. Had to go through a few more panic braking scenarios (perks of living in a tier-3 city/kasba) but I am glad to report that the Creta did well in stopping in a straight line and well in time.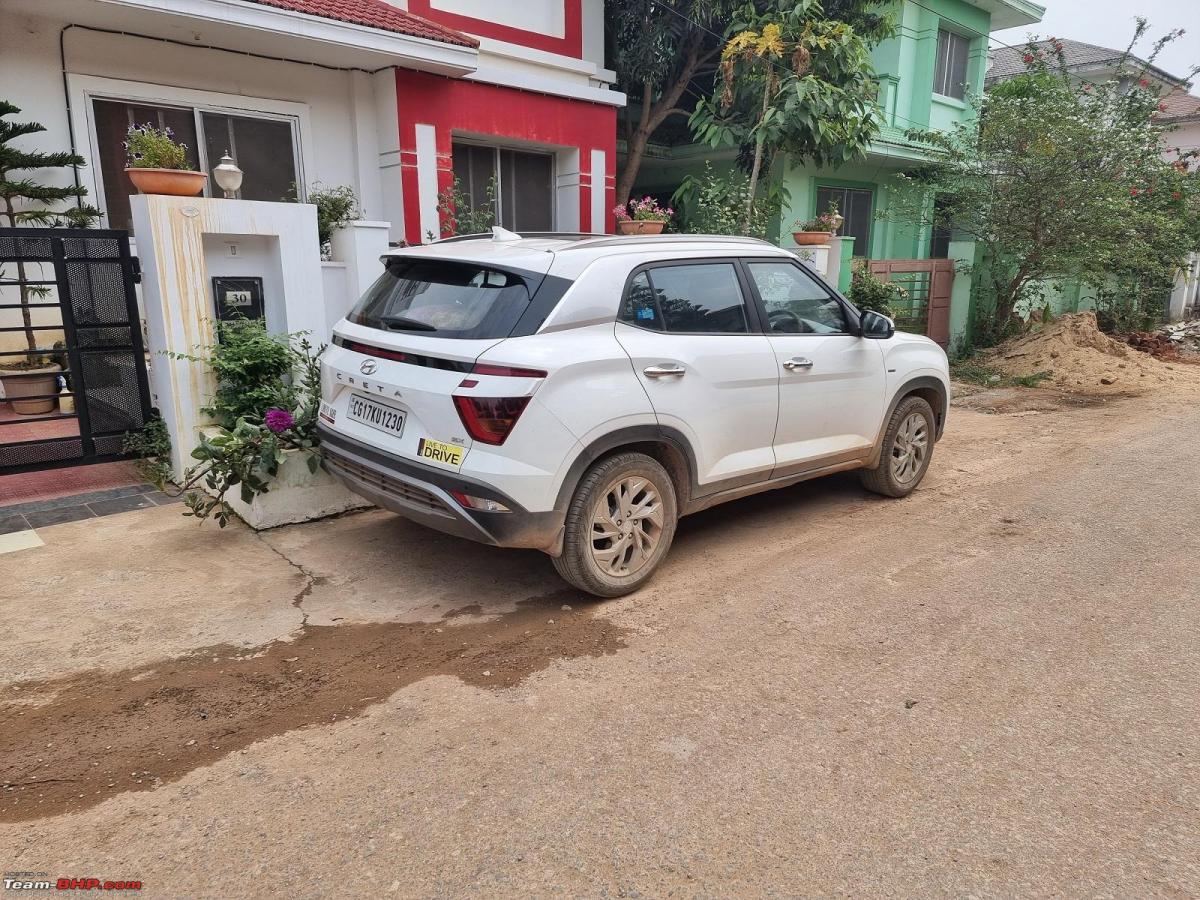 About FE, well it hovered between the 11-12 kmpl mark all through winter (ACC minimally used, and with speeds mostly between 35-45 kmph). I am seeing a dip in these figures since mid-March when the ACC has started doing more duty, and traffic became heavier on the roads as the third wave continued to subside.
Now it's anywhere between 10-11 kmpl. The last Fuelio calculation for a refill came to 10.3 kmpl. Of course, I am driving exclusively in the ECO mode for the past 2,000-odd kms.
(Highest achieved inside the city in close, dense traffic)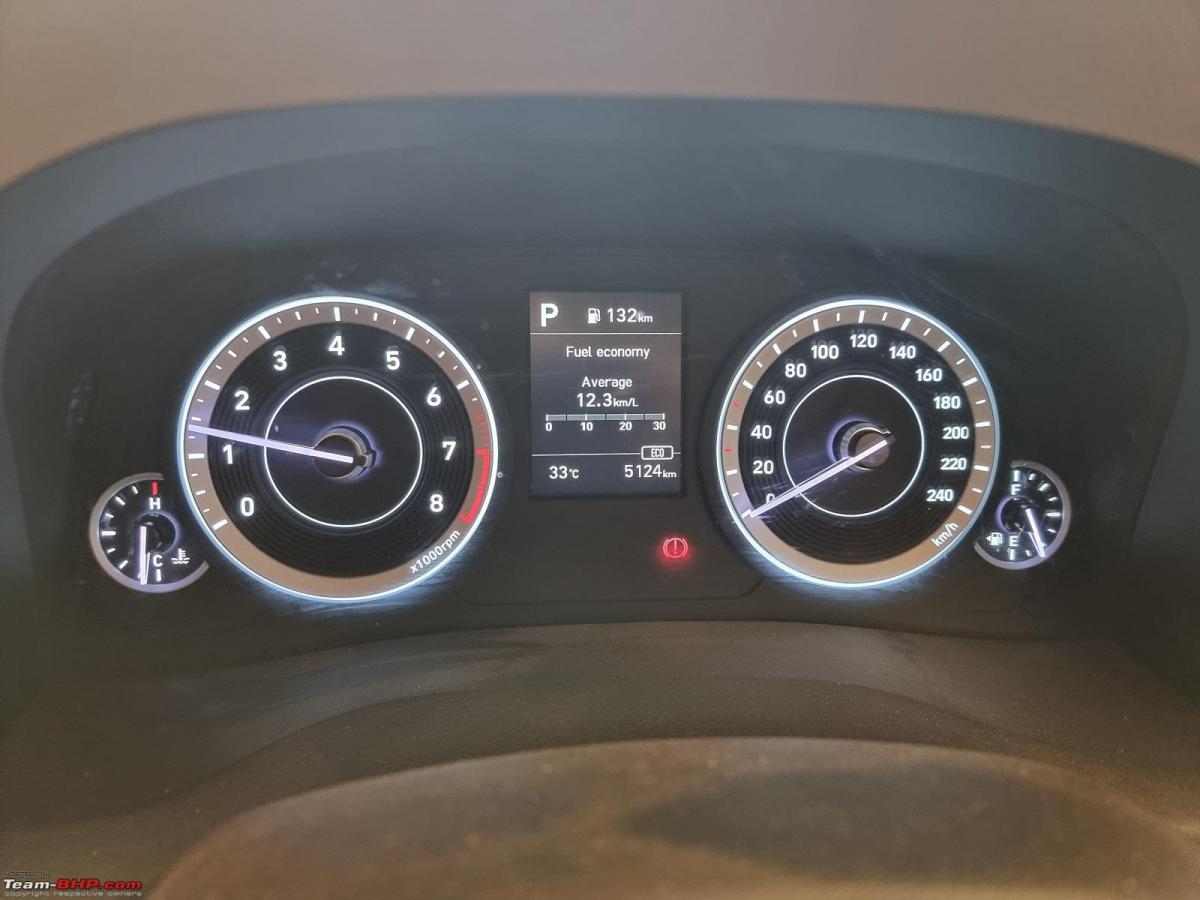 The engine and the gearbox are, in one word, laid-back. Not relaxed laid-back, but boringly laid-back. This is one engine-gearbox combo which a 90-year-old grandpa, maybe with the slowest reflexes ever, can easily drive on a daily basis! (no disrespect meant to any grandpas worldwide!)
(Please excuse all the dust – it's become a very dusty city lately!)
And, I have to admit that I am really disappointed by the Creta's NCAP score. I expected no less when the Seltos's scores were out, but given the fact that Hyundai advertised the heck out of the structural rigidity and claims of using over 73% high strength steel in it's cabin, a score of 08/17 is disappointingly, disappointly low. That's not even 50% marks secured in a final examination!
The Creta commands a fantastic resale value though, specially in tier-3 areas like mine. One of my contacts recently commended me on how impeccably I have maintained my Phoenix, and he was willing to give me no less than 13.8 lakhs for my nearly 2-year old petrol automatic – that's a very meagre depreciation of just 1.14 lakhs in 21 months of first-hand ownership!
Read BHPian comments for more insights and information.
Source: Read Full Article